Dr. Tandang wins CAS Outstanding Extension Personnel/Public Service Award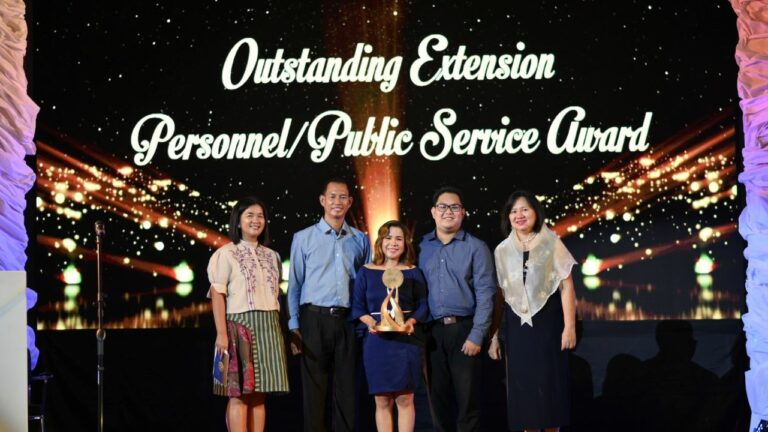 Dr. Nancy Tandang has been an excellent professor, prolific researcher, and active extension personnel in the 24 years that she has been serving at the Institute of Statistics (INSTAT). In 2017, she was awarded as the CAS Outstanding Senior Faculty. This year, her exceptional list of extension work/public service is recognized as she brings home the CAS Outstanding Extension Personnel/Public Service Award.
Dr. Tandang is an active member of the INSTAT Statistical Consulting Group, the extension service arm of INSTAT, where she has guided students at the undergraduate and graduate level in their own research. Since 2020, Dr. Tandang has been a member of the UPLB Interdisciplinary Studies Center on Organic Agriculture, a program that aims to pursue more holistic inter-, multi-, and transdisciplinary basic and applied research, development, and extension (RDE) programs of UPLB.
She is also a highly requested resource person in statistics training courses within and outside the university. Many of her engagements are in the fields of food and nutrition, as well as social science with the Institute of Nutrition and Food, College of Human Ecology and College of Development Communication. Outside the university, she has served as a resource person in several training courses of various government agencies such as the Philippine Statistical Research and Training Institute, Technical Education and Skills Development Authority, and the Department of Education, among others. She has demonstrated technical competence in conducting trainings on basic and advanced statistical analyses for both qualitative and quantitative research, survey operations and questionnaire design, estimation and sampling weights, data management, and data visualization, just to name a few.
Dr. Tandang has also served as a statistician in different human nutrition and public health projects funded by agencies such as UNICEF, FAO Philippines, National Nutrition Council, and UPLB. She has also been a reviewer for various journal publications, and organizer and moderator of several national student-faculty conferences on statistics.
Dr. Tandang is highly regarded by her peers and students. She is conscientious in completing more extension services alongside research and instruction. Her deep commitment to provide quality service as a statistician is evidenced by her outstanding performance in several involvements.
– Lysette C. Aguila and Hazel M. Remolacio