Ramoncito G. Cambel
Outstanding Teacher Awardee for the Physical Sciences (Junior Faculty)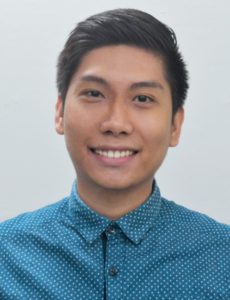 THE AWARDEE. Sir Mon as he is fondly called by colleagues and students
Yes, this is the same Mr. Ramoncito G. Cambel who was awarded the 2015 CAS Outstanding Junior Faculty.  This dapper   gentleman teaches elementary statistics and recitation classes of    higher statistics courses.  Mr. Cambel also serves as resource person to statistics training programs.  The most recent extension activity that he was involved in is the Satisfaction Survey of Stakeholders of the    Philippine Crop Insurance Corporation sponsored by the    Development Academy of the Philippines.  He is currently the      statistician of Young  Public Servants, a non-government organization that aims to develop a new and focused generation of leaders.  Being a   graduate student taking up MS Statistics, cognate in Business   Management, Mr. Cambel is writing his thesis on   exploratory spatial analysis of competitiveness of municipalities and cities of the Philippines.
Mon, as we all fondly call him, heads the  Institute of Statistics' (INSTAT) Socials Committee which he ably leads in organizing fun-filled and novel activities.  The INSTAT anniversary and annual testimonial for graduating students have become livelier and interesting because of his fresh and inclusive  ideas. He makes INSTAT ladies without  romantic dates during  Valentine's Day feel special with sweet tokens. He is quite popular among students,   colleagues and co-workers because he goes out of his way to help them. Mon,however, is not all work.  During his free time, Mon likes browsing in stores to see new designs and  products.  He also loves to sing along a videoke.
Mon is a proud alumnus of Pedro Guevarra Memorial National High School in Sta. Cruz, Laguna, where he was born.  He draws inspiration from his father, a social worker at the Rehabilitation Center in Magdalena, Laguna and from his mother, a vendor at the Sta. Cruz public market.  They taught him to work hard and follow his dreams.
Although winning awards seem natural for him, Mon feels that his life's journey was not an easy one. Surprisingly, this multi-awarded faculty member initially have doubts about his abilities and skills, but his determination to prove himself, maximize his potentials, and his desire for a job that will make him feel worthy and fulfilled, led him to where he is now.
Mon has been an instructor at INSTAT since he finished his BS Statistics degree in 2011.  Like many other new instructors, Mon also received negative comments in the Student Evaluation for Teachers (SET) in his first two years of teaching.  Rather than be     discouraged and give up, Mon took these comments as a challenge to improve his teaching methods. Through his perseverance and ingenuity, he learned how to effectively introduce innovative learning activities that students would also enjoy doing. He is able to motivate his students to study by conducting fun classes without sacrificing the technical content of the lesson at hand.  He has truly developed the core of his teaching philosophy which is to impart knowledge by   devising engaging activities that would stimulate the students' minds.  But Mon does not rest on his laurels. He continues to work hard in honing his teaching skills and he looks forward to finishing his MS degree.  Mon, you are such a good example to follow.
Congratulations!
— LN Comia