Call for Donations: Remote Learning Assistance Grant for INSTAT Students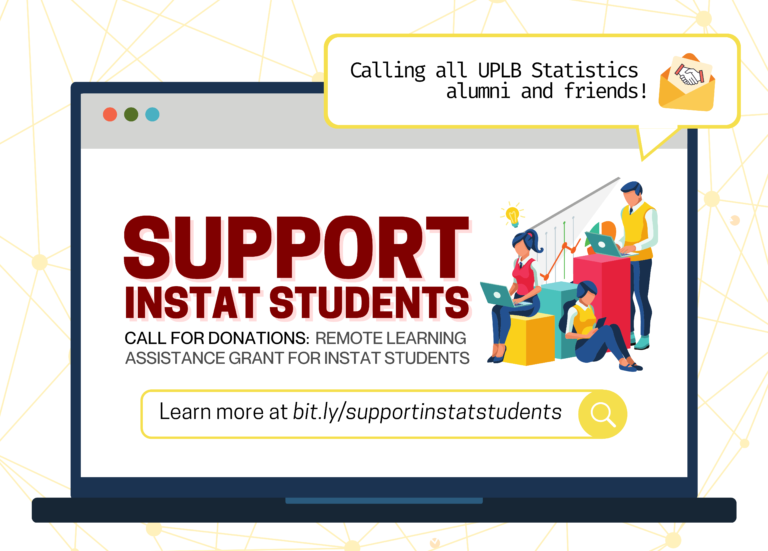 To the members of the UPLB Statistics Community:
The shift to remote learning has left learners from economically weaker backgrounds at a disadvantage. The Institute of Statistics heeds the call that all students are #CONNECTED2G3THER. INSTAT aims to further expand the available support to financially challenged students from INSTAT.
The UPLB INSTAT Remote Learning Assistance Grant project aims to raise funds to provide disadvantaged students from INSTAT with internet connectivity and gadgets that can help them access their courses remotely next semester. This project hopes to encourage alumni and friends from the UPLB Statistics Community to support students who cannot afford tools for remote learning by becoming a donor. Donation packages were created based on the learning assistance needs of the students.
Learn more about this worthwhile cause by visiting bit.ly/supportinstatstudents. Every support counts.
For inquiries regarding this project, you may contact Dr. Liza N. Comia (INSTAT Director) thru the following:
Telephone: (049) 536-2381
Mobile: +63917 700 5354
Email: [email protected]
Facebook Page: https://www.facebook.com/uplb.instat
Address: C-315, 3/F Wing C, Francisco O. Santos Hall (Physical Sciences Building), Harold Cuzner Royal Palm Avenue, UPLB, College, Laguna 4031