Members of the INSTAT Faculty post Best Oral Paper in Education in the 1st NSFRCAS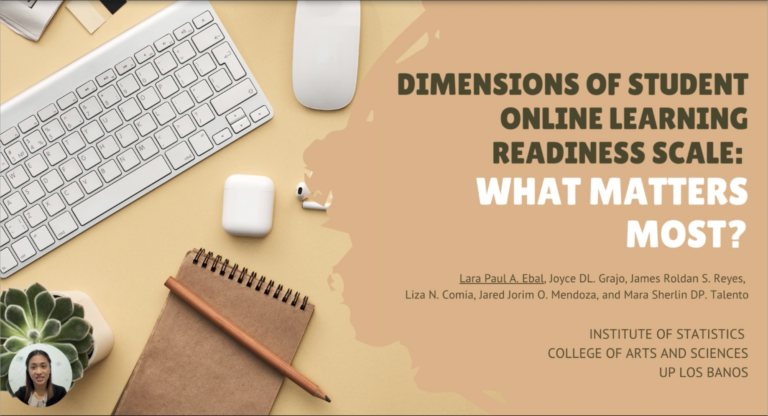 Asst. Prof. Lara Paul A. Ebal, together with her coauthors, Assoc. Prof. Joyce DL. Grajo, Asst. Prof. James Roldan S. Reyes, Assoc. Prof. Liza N. Comia, Asst. Prof. Jared Jorim O. Mendoza, and Asst. Prof. Mara Sherlin DP. Talento won the Best Oral Paper in Education (Professional Category) during the 1st National Student-Faculty Research Conference in the Arts and Sciences (1st NSFRCAS) which coincides with the 15th University of the Philippines Los Baños – College of Arts and Sciences Student-Faculty Research Conference (15th UPLB-CAS SFRC), held via Zoom last 28 November and 5 December 2022.
The research group's paper entitled "Dimensions of Student Online Learning Readiness Scale: What Matters Most?" topped the two other finalists from the said category. Their study examined the five dimensions of the Online Learning Readiness Scale, namely (1) computer/internet self-efficacy; (2) self-directed learning; (3) learner control; (4) motivation for learning; and (5) online communication self-efficacy and determined the dimensions which contribute the most to the online learning readiness of Filipino higher education students.With this year's theme "Knowledge and Imagined Futures: Arts and Sciences Towards Nation Building", the two-day conference has exhibited a total of 70 oral presentations and 25 poster papers from professional and nonprofessional submissions from high schools and universities all over the country.
~ Jemuel Dave B. Dorado