Statistical Consulting Group
Background of the Service
Statistically-sound methodology for the agricultural sciences has been the priority during the early years of statistics in the university. The need for basic and advance experimental designs mainly demanded for the development of statistics. Demand for highly-trained statisticians also grew.
The then Department of Statistics and Statistical Laboratory (DSSL) under the Institute of Mathematical Sciences and Physics (IMSP) has been home for the new batch of flourishing statisticians in the university. In 1998, DSSL separated from IMSP and became a distinct and independent unit, the Institute of Statistics (INSTAT). This event paved the way for an even brighter future for faculty-statisticians. Members of the faculty served as consultants to different projects and extension services. Exposure to both technical and specialized fields brought gains in broadening the applications of statistics.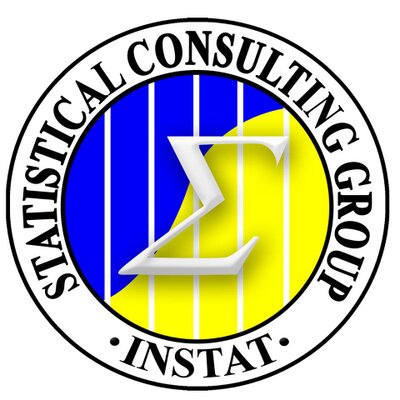 Both masters and doctor of philosophy degrees have also been established and handled by INSTAT. The need to centralize the management of the services needed by researchers grew. Under the initiative of Dr. Zita VJ. Albacea, professor of Statistics and former executive director of the Philippine Statistical Research and Training Institute, the Statistical Consulting Group or SCG was formed in the year 2000. The objective mainly is to create an extension service arm of the institute that has its own management system that provides centralized distribution of services to be rendered by the faculty statisticians. It also provides opportunities for young faculty-statisticians to practice their skills.
Given the demand for consultation and analyses centralized at SCG, this gave both the university researchers and the faculty statisticians an avenue to further discuss collaborative researches. As years passed, SCG opened its doors to clients outside the university. These clients included undergraduate and graduate students from public and private schools, commercial institutions, and government and non-government offices. Revisions on the procedures were made to improve the quality of output and researches at the very least cost.
For Sample Size Determination and/or Sample Selection
We offer packaged rates for statistical analysis and consultation depending on client type.  The following are the minimum charges (in pesos), which include analysis for ten variables and one hour consultation with the statistician:
Sample Size Determination
and/or Sample Selection

Project Staff/ Researcher
Sample Size Determination
and/or Sample Selection

Project Staff/ Researcher
| | Additional Charge (per analysis) |
| --- | --- |
| | |
| | |
| | |
For more information, contact: