A center of excellence in Statistics
providing the leadership in statistical education,
research, training, and technical consultancy
D
o
y
o
u
n
e
e
d
a
s
t
a
t
i
s
t
i
c
a
l
c
o
n
s
u
l
t
a
n
t
?
The INSTAT Statistical Consulting Group offers a multitude of services related to statistical advice on surveys and experiments, and statistical analysis. We cater to undergraduate and graduate students from public and private educational institutions, commercial institutions, and government and non-government offices.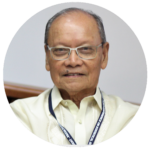 Featured Alumni: Dr. Isidoro P. David
Dr. David continues to strive valiantly in any arena he chooses. He continues to lead a group of statisticians and graduate students in doing research on poverty measurement, even without the support of the statistical system. He continues to improve the statistical literacy in our country and to mentor and guide statisticians and those of us with cold and timid souls to find our place in victory or defeat.