1st SAS Analytics Champions: Minds of INSTAT Constituents
Last February 13, the SAS® Philippines conducted the 1st Academic Analytics Conference at the World Trade Centre. This conference is aimed at gathering SAS users and programmers from different universities, government institutions, and private companies across the country to share their knowledge and expertise on analytics leveraging on big data. Prior to the conference, numerous papers were submitted and evaluated for the conference competition under the student and faculty division. For the faculty division, two of INSTAT faculty members, Prof. Aizobelle Huelgas and Mr. Rocky Marcelino, were able to make it to the top three. A PhP 50,000 worth of research grant were given for each of the top three finalists in the faculty division. For the student division, a team of students, composed of senior BS Statistics major of INSTAT, were able to make it to the top 10 teams. The members of the student team are Ian Micahelah de Chavez, Angelyn Mananghaya, and Ian Dominic Nuestro coached by Mr. John Lorenzo A. Yambot.
Paper presentations and judging of the finalists were conducted two weeks prior to the date of conference. Judges included the president of Landbank Philippines, SAS Asia Pacific Regional Director, Philippine Statistical Association Inc. and SAS® Managers for Educational and Technical support. On the conference proper, the head of the SAS® Philippines boasted on the success of the first launching of the conference and encouraged participants to engage in and promote efficient use of big data to mine relevant information. She also pointed out the need of young "data scientists" for the next 10 years. The head of Globe Telecommunications also shared his experiences on how handling big data evolved with the advancement of computer hardware and communications technology.
During the awarding ceremonies, Prof. Huelgas was hailed the first SAS® Analytics champion while Mr. Marcelino landed as runner-up in the faculty division. On the other hand, the INSTAT student team was hailed the first SAS® Analytics champion in the student division. Winners were able to present their respective researches in front of the attendees during the conference. As part of the prize, both champions from the two divisions were given an all-expense-paid trip to attend the SAS® Global Forum held last March 23-28, 2014 at Washington, D.C. USA. With UPLB sweeping the major prizes in the conference, INSTAT was also given a total of PhP 230,000 financial support for any analytics projects or researches it will be conducting.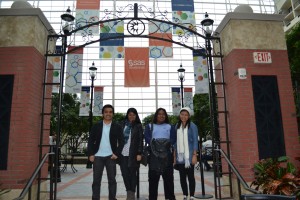 -RTMarcelino